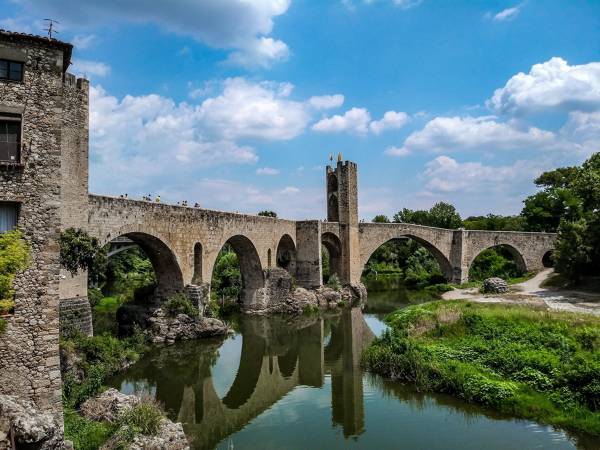 Book your activity now
Free Tour Besalú
Marvel at the spectacular Romanesque bridge and the Roman, Jewish and medieval past of one of the best-preserved towns in Girona.
Duration: 1,5 hours
After a brief introduction to the history and heritage of Besalú and the Garrotxa, we will enter the historic center through its imposing medieval bridge, one of the most spectacular in Catalonia, from the 11th century.
We will continue through narrow cobbled streets with a medieval aspect, with some shops and open-air markets, and we will go down one of the streets to visit the Jewish Quarter of Besalú. The micvé, or ritual bath house, unique in the Iberian Peninsula, and the remains of the old Synagogue and the Jewish school are there.
We will continue the Besalú Free Tour towards the Town Hall Square, where we will talk about the typical products of the area, such as the cold meats, cheese and the famous Ratafia, a sweet liqueur made from herbs. We will soon arrive at the Sant Pere Square, the heart of the town, where the Romanesque Church of the same name, belonging to an old Benedictine Monastery, is located.
Passing next to the beautiful Church of Sant Vicenç we will reach the end of the tour, a beautiful viewpoint where you can admire the remains of an ancient Roman settlement and the magnificent views over the bridge and the town.
---