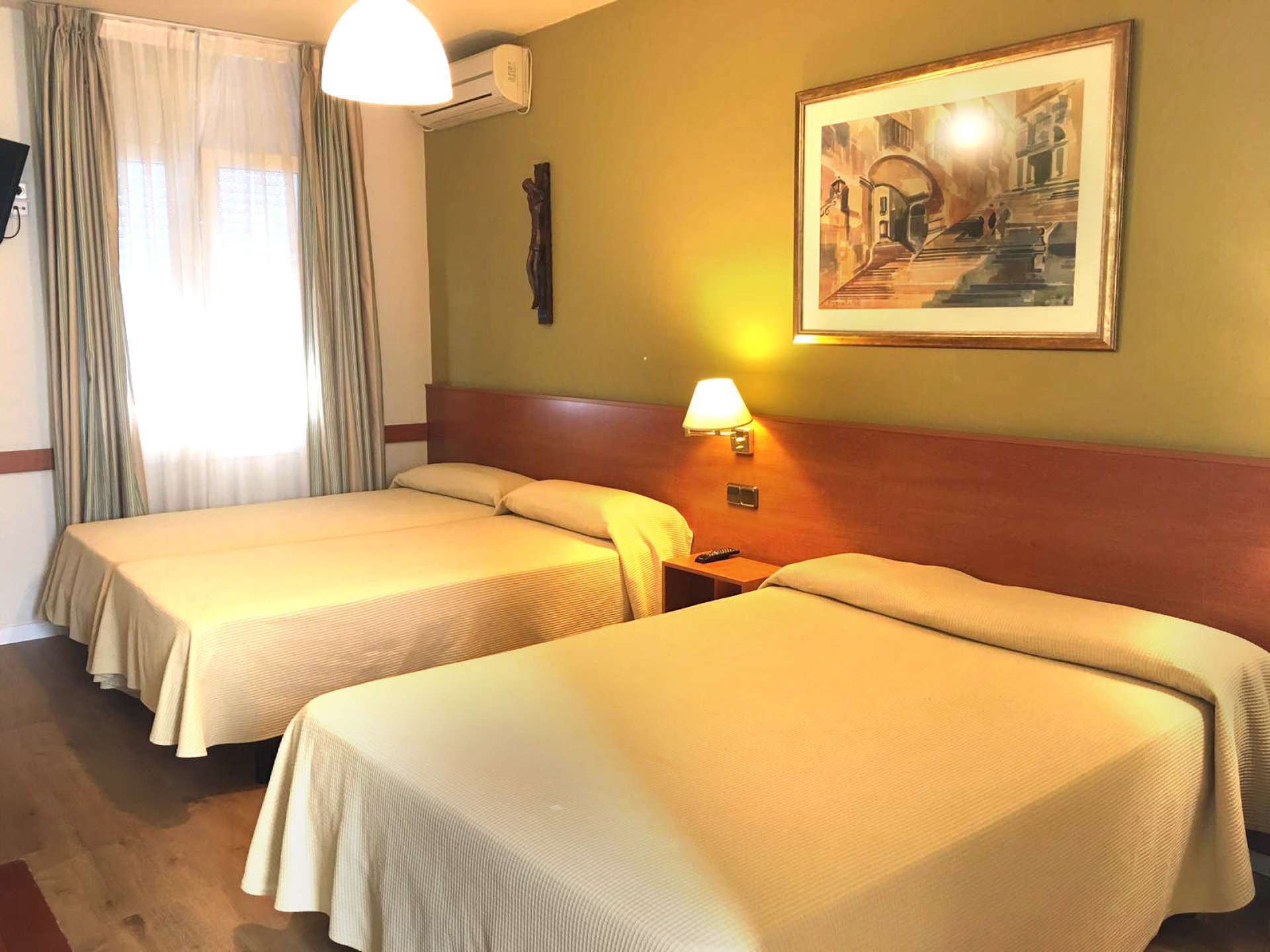 Hotel Europa
Plan your holidays in Hotel Europa
Hotel services
24 hour reception
Car park
Luggage storage
Free wifi
Lounge
Bar
No pets
Cafe
Reception desk
checkin: 13:00-24:00
checkout: 00:00-11:30
Room services
Air-conditioning
Wifi
Heating
Hair dryer
Telephone
Fully-equipped bathroom
Flat Screen TV
Towels
Linen
City view
---
Hotel Europa is located a few metres far from the train and bus station of Girona. It is also very near the historical Barri Vell of Girona and the comercial area. This establishment stand out because its familiar treat and the quality of its service.
---
Small and family hotel, located in the commercial center and at 50m from the only one station in the city, it has 25 rooms, singles, doubles, triples and quadruples, with private bathroom, TV color, air conditioning and heating, free wifi and offers the possibility of breakfast and parking , optional.
---
Opinions
Muy a gusto
Hemos estado muy a gusto. Hotel sencillo y bien ubicado.
Muy buen hotel
Muy limpio y todo el personal muy amable!!!!
Proper, familiar, tracte perfecte.
És el segon any, i tot perfecte, tracte immillorable, molt familiar, molt cèntric. Recomanable 100
Senzill i agradable
Un hotel perfecte per visitar la ciutat de Girona en família. Habitació quàdruple amb espai suficient per tots, molt neta i amb tot el necessari. Personal molt amable i atent. Si tornem a Girona repetirem hotel
A very pleasant hotel.
A very pleasant hotel with very helpful and attentive staff. Very comfortable rooms in a convenient location for travel. i would recommend this hotel without any hesitation.
Calidad precio muy bueno
La estancia de una noche con desayuno fue idonea. El trato del personal muy buena. Las instalaciones puestas al dia. Ideal para una tanto para vacaciones como a nivel laboral. Si lo necesito los volveré a visitar
Great location for Girona
We enjoyed the hotel - mainly for friendly staff, reasonable price, and great location close to train and bus station, as well as to Old City. While the rooms are small, we did not spend much time in the room - spent our time visiting Girona - new and old. While not a lot of amenities, it fit our needs.
Tot correcte
Hotel assequible en zona tranquil·la i proper al centre de la ciutat. Tracte amable per part de tot el personal. Esmorzar correcte i suficient.
Comfortable and welcoming
This is a friendly and comfortable hotel close to the centre of the city. Excellent value.
A Gem in Girona
Perfect location, lovely room, quiet, this hotel was great. Even better were all the staff members. The Reception desk people were friendly with helpful suggestions and information. The cleaning staff assured every detail of the room was perfect. Not only do we recommend this hotel, we have begun planning a return visit to Girona and staying at this hotel. Muchas gracias.
Previous
Next
---
---