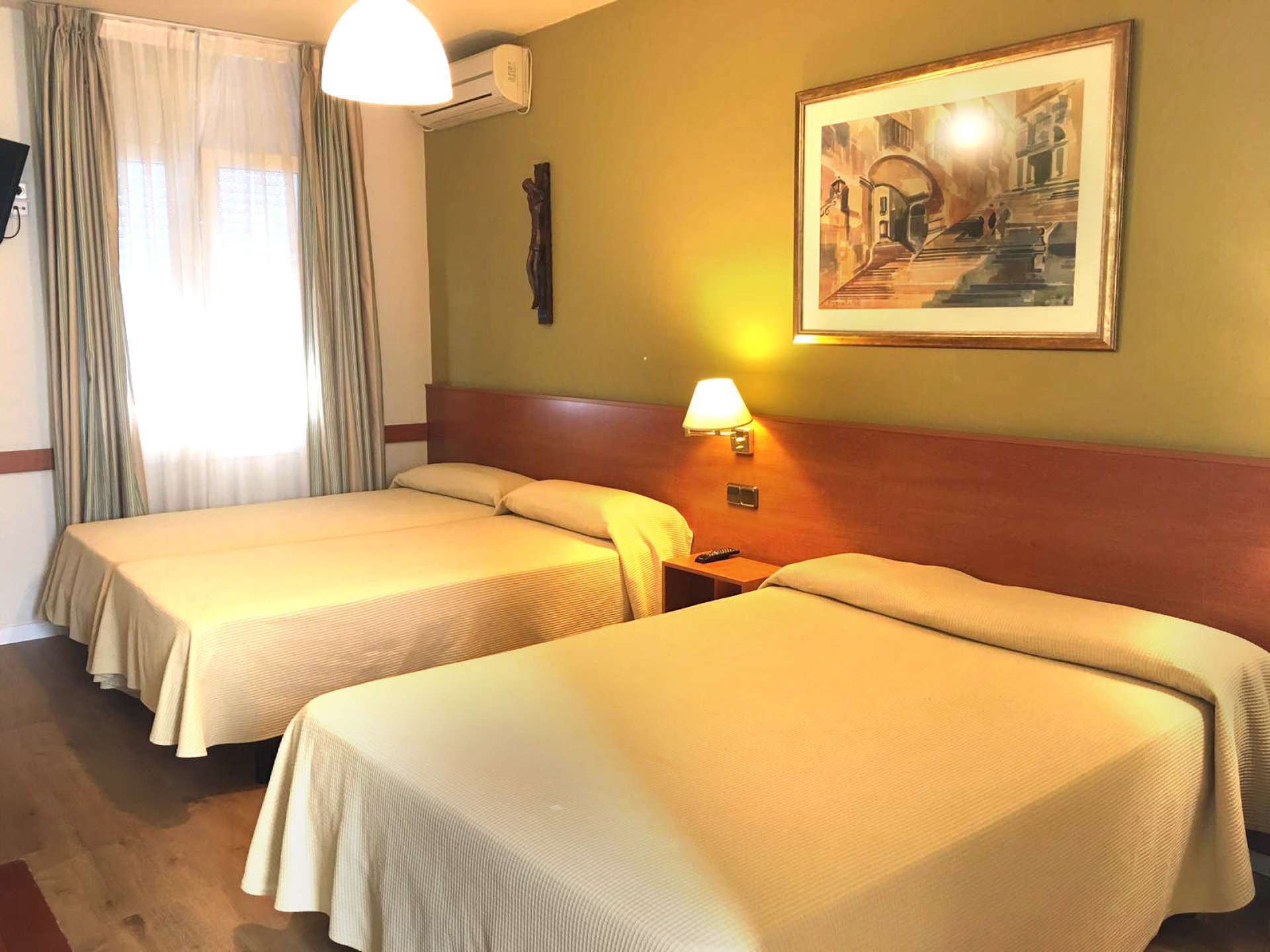 Hotel Europa
Plan your holidays in Hotel Europa
Hotel services
24 hour reception
Car park
Luggage storage
Free wifi
Lounge
Bar
No pets
Cafe
Reception desk
checkin: 13:00-24:00
checkout: 00:00-11:30
Room services
Air-conditioning
Wifi
Heating
Hair dryer
Telephone
Fully-equipped bathroom
Flat Screen TV
Towels
Linen
City view
---
Hotel Europa is located a few metres far from the train and bus station of Girona. It is also very near the historical Barri Vell of Girona and the comercial area. This establishment stand out because its familiar treat and the quality of its service.
---
Small and family hotel, located in the commercial center and at 50m from the only one station in the city, it has 25 rooms, singles, doubles, triples and quadruples, with private bathroom, TV color, air conditioning and heating, free wifi and offers the possibility of breakfast and parking , optional.
---
Opinions
Excellent! La situation, la habitacion, el personal y el desayuno sont tres bien y agradable.
Excel.lent relació qualitatpreu
Excel.lent relació qualitatpreu. Tracte personal exquisit. Va ploure molt i ens van deixar paraigues.
Lovely stay
It is a centrally located hotel in the heart of Girona. The rooms and all facilities were nice and clean. The staff is accomodating and very helpful. We will definitely be using this hotel again.
Excellent value
Lovely hotel located just 200 yards from the train station and only 10 minutes from the main town. Room quite small but clean. Perfect as a base for visiting Girona. Staff very friendly and helpful. Would definitely stay again.
Tot molt bé
Lhabitació està molt bé. Lesmozar està molt bé i tot molt bo. El personal és molt agradable i amable. Vam estar molt tranquils. Preu correcte. Ubicació perfecte
Overnight stay
Just stayed 1 night in this hotel. Ideal location for bus & rail station - just a few minutes walk away. Room was small but clean. Beds were comfortable. Staff were very good. I would definitely stay at this hotel again.
Hotel agrdable i net, personal professional i amable
Vam estar al Hotel Europa la setmana passada i la impressió ha sigut molt bona. El personal molt amable i professional, atent a les nostres peticions indiferent de la hora del dia i les instal·lacions netes i amb una temperatura agradable. Tornarem aviat!
Lo recomendaría.
Un hotel encantador, un buena situación, cerca del centro. Una habitación muy bien arreglada, limpia y en condiciones. Trato muy familiar. Una buena experiencia !!!!
Great little hotel
Great location so close to central bus station. Nice clean rooms. Comfortable beds and good value. Lady at front desk was very helpful and friendly.
Bien situado
Personal amable y servicial. Buena situación y limpio.
Previous
Next
---
---